Net Zero Emissions Roadmap
Adbri's Net Zero Emissions Roadmap sets out the targets and actions we will progress as we decarbonise our business. Adbri operates two emissions-intensive and hard‑to‑abate processes – the integrated manufacture of clinker and cement and lime production. We have demonstrated a strong performance over the past decade in reducing our operational emissions by 32% since FY10.
Short-term 2024 target
Our short-term targets is a 7% absolute reduction in Scope 1 and Scope 2 emissions by FY24 against a FY19 baseline, in line with our Sustainability Framework targets.
Medium-term 2030 target
We have three medium-term targets covering cement, lime and electricity, reflecting our main sources of emissions.
Cement – 20% reduction in emissions intensity (kg CO2e) per net tonne of cement by FY30 against a FY20 baseline.  The intensity target for cement aligns with the Global Cement and Concrete Association members' commitment which provides a level of comparability in the industry
Lime – 10% reduction in emissions intensity (kg CO2e) per tonne of lime by FY30 against a FY20 baseline. There are no international emissions intensity benchmarks for lime production. The 10% reduction is a stretch target for Adbri based on currently available decarbonisation actions
Electricity – 100% zero emissions electricity by FY30. We have set an ambitious medium-term target to achieve 100% zero emissions supply by FY30, with no electricity currently sourced accounted as zero emissions.
Long term 2050 goal
Net zero emissions by 2050. We intend to include Scope 3 emissions in our long-term goal once we have undertaken further work to set a target. Our current focus is on Scope 1 and Scope 2 emissions.
---
Our indicative pathway and levers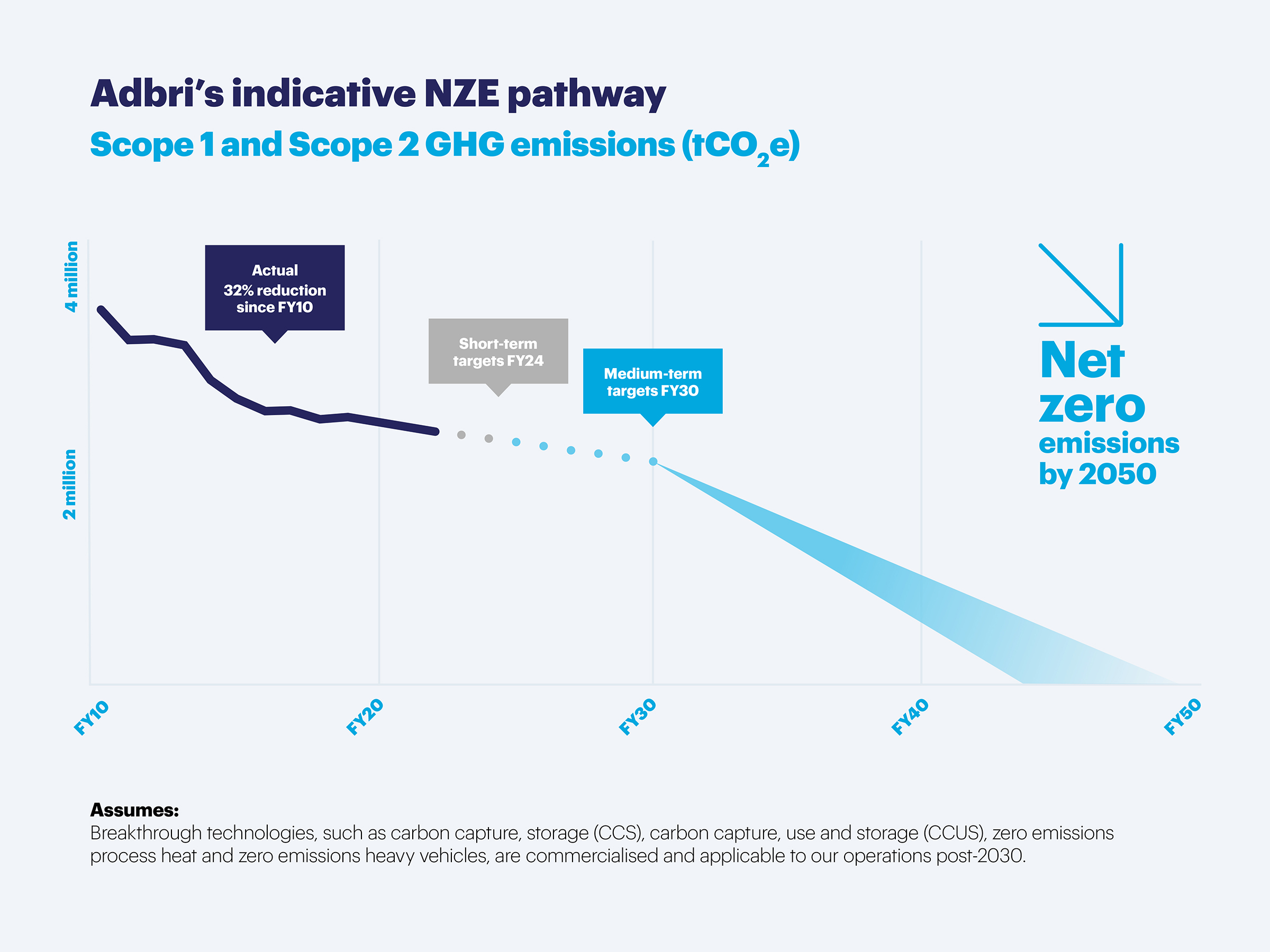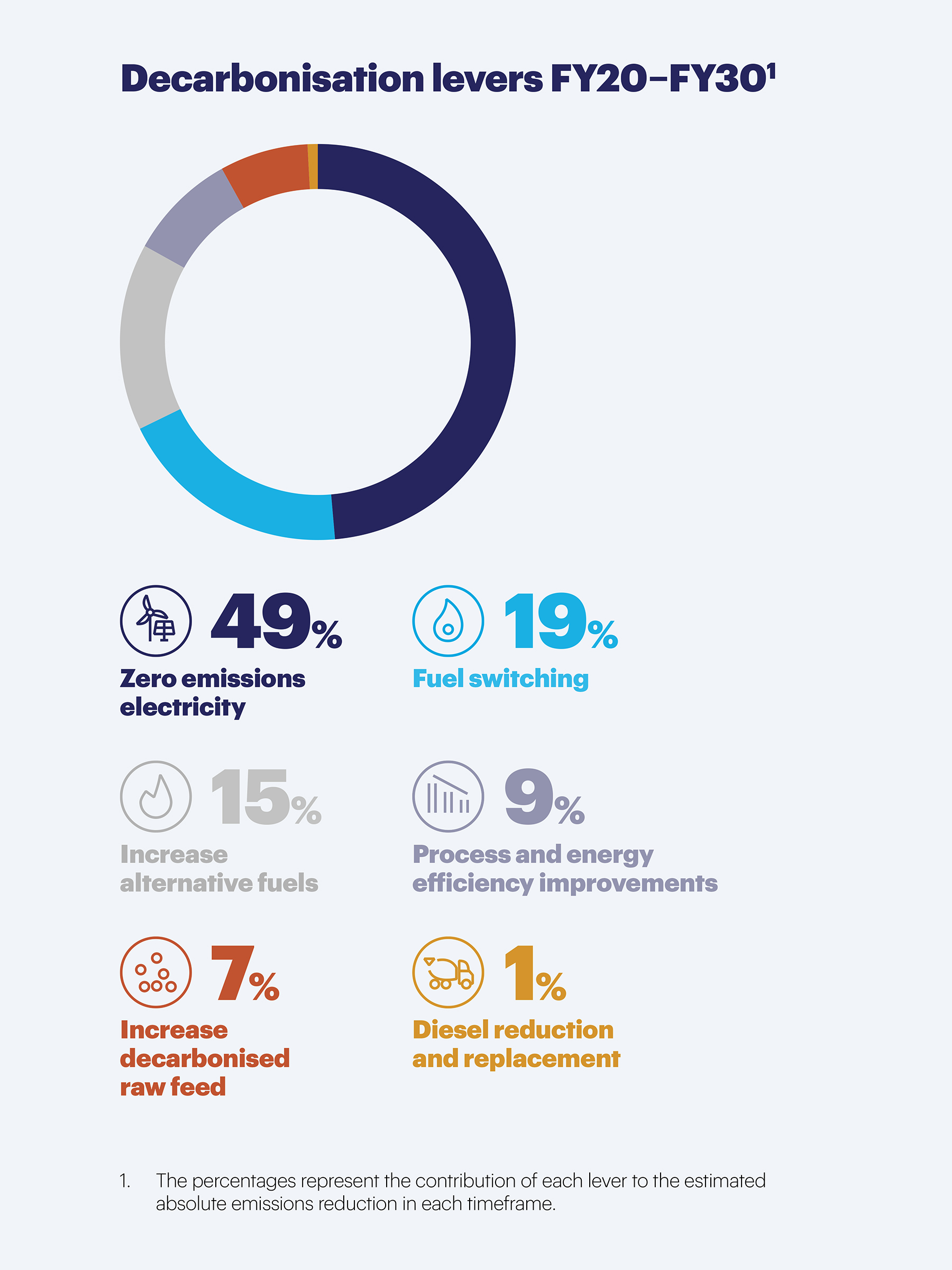 Reduce emissions
Our net zero emissions (NZE) pathway is being approached in two stages.
From 2020–2030, the priority is to deliver emissions reductions through conventional abatement approaches like process and energy efficiency, increasing the use of alternative fuels and a transition to zero emissions electricity. In parallel, we will also be building our capabilities in breakthrough technologies that will be required post-2030.
From 2030–2050, we will work to close the technology gap for our hard-to-abate clinker and lime manufacturing by supporting the development and de-risking of breakthrough technologies at scale, via partnerships in research and development (R&D) and potential pilot-scale demonstrations to accelerate commercial deployment.
Create new products
Adbri is committed to manufacturing lower carbon products for our customers. One of our strategies is to increase the use of supplementary cementitious materials (SCMs) in our cement and concrete products.
Clinker is the most emissions-intensive product in the clinker-cement-concrete process, however SCMs can partly replace clinker in cement (and therefore concrete). SCMs that are used most in Australia are ground granulated blast furnace slag (GGBFS), fly ash from coal-fired power plants and limestone, all of which have much lower embodied carbon than clinker.
The clinker to cement ratio is an industry metric which reflects the utilisation of SCMs. By decreasing the amount of clinker and increasing the SCM content, the emissions intensity of cement can be reduced, while still producing a durable, resilient product that meets stringent standards.
Collaborate with key partners
For novel technologies to reach the required level of maturity to meet decarbonisation goals, collective action is needed in the near term.
In 2021, Adbri became a core partner of the new Heavy Industry Low-carbon Transition Co-operative Research Centre (HILT CRC) which is a leading collaboration to transform the heavy industry sector for a low carbon economy.
We are also a partner of the SmartCrete CRC; a member of the Material and Embodied Carbon Leaders Alliance (MECLA) in NSW which brings together a wide range of industry, government, research and NGO representatives; and an Associate Member of VDZ , a German based organisation which acts as an international knowledge hub for all aspects of the cement and concrete industry.
Our industry associations – Cement Concrete & Aggregate Australia (CCAA), Cement Industry Federation (CIF) and Manufacturing Australia (MA) – also provide opportunities to collaborate across industry and have all released NZE Roadmaps which align with our approach.
Reporting
Sharing our progress against our NZE Roadmap is important to Adbri. There are many factors that will impact on our ability to implement emissions reduction initiatives and our progress may not be linear. We will provide annual updates on our performance against our targets in our annual Sustainability Report.
Our Purpose
and Principles
We are always ready to deliver on our promises.
Sustainable Future
Building a sustainable future for all Australians.